Pet Health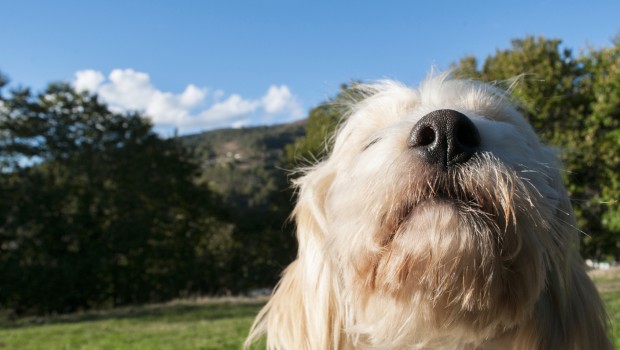 Dog Cologne: Want Your Dog To Smell Better?
Dogs have become a huge part of our lives. They are with us more than ever, whether we are going to the store, spending a day at the park, or just snuggling on the couch. We treat them like our kids, taking them wherever we go, which is why it is important for them to smell as fresh and clean as much as possible.
Nobody likes a smelly dog and if your canine companion is going to be accompanying you everywhere you go, keeping him clean and odor-free is just good etiquette, especially around other people.
Instead Of Doggie Clothes, Try A Little Perfume – For Dogs Of Course!
It's no wonder that for many dog owners, dog perfumes and sprays have gone beyond grooming and accessorizing. In fact, they have become more of a necessity. Unlike a fancy collar or a shirt, dog perfume is a way of pampering your dog without going overboard on accessories. It is also something that doesn't go out of style and will not get chewed up by your pet.
Spraying a little spritz on your dog keeps him smelling fresh and clean in between baths, thereby giving you, the busy owner, an extra day or two to bathe him. Some sprays even come with a special formula that literally repels dirt, so your dog will not only smell good but will stay cleaner until his next bath.
Dog Scents Are Also Healthy
In addition to the appealing smell, dog sprays also offer benefits for your canine friend. They have ingredients that moisturize your dog's coat and skin and prevent matting. There is also a spray that offers a touch of shimmer on your dog's coat while giving it a pleasant smell at the same time. There is even a spray that comes with glitter to add additional sparkle to his coat.
Dabbing a little perfume on your dog also gives you the opportunity to get closer to him. When your dog smells fresh and clean, you are more likely to pick him up, play with him, and spend more time with him. You can have your dog on your lap or the couch and not worry about that 'doggie smell'.
Dog perfumes come in different varieties and are specially designed to have a pleasing smell for both the owner and his dog. Some are made of the delicate blend of the sweetest flowers while others contain essential oils as their main ingredients. Lavender and chamomile offer a soothing scent, while rose and jasmine create an extra boost of fragrance. Peppermint makes your dog's coat shine and lemongrass makes an excellent deodorizer.