Dogs & Cats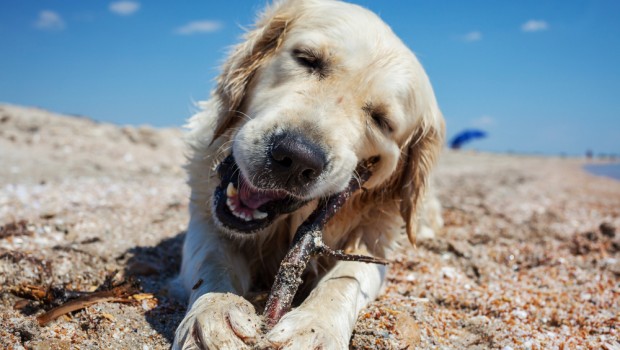 Outdoor Dog Products
Ever wondered how your neighbor can maintain such a clean and healthy yard, even though he's got two German Shepherds and one Yorkie that loves to urinate and dig all over the place?
The key to maintaining a successful yard and garden without your dogs interfering is to invest into outdoor solutions to keep your yard dog-friendly. Check out some of following product ideas that may be perfectly suited to your needs:
Dog Repair Kit by ENCAP
Keep your natural grass free and clear of damage with the convenient help of the Dog Repair Kit, created by ENCAP. With technology designed to improve the performance of your lawn soil and prevention of wear and tear, the Dog Repair Kit is the perfect solution.
Weighing 1 1/4 pounds, each Dog Repair Kit bag contains everything you need to repair your grass including mulch, seed, and soil conditioner. All you have to do is loosen up a few edges of soil and sprinkle a handful of granules from your Dog Repair Kit on top of the area.
Simply rake over the location and water the lawn as indicated by the seed watering guide that is included with your purchase. This tutorial will let you know when the seeds have received enough water.
ProGreen Synthetic Grass by ProGreen
This synthetic grass product is a perfect alternative to a yard that has patches of real grass scattered from your dog's digging habit. It is also much safer and visually appealing than filling the area with concrete.
ProGreen synthetic grass allows for plenty of drainage through tiny holes when it comes to rainy weather or dog urine. All liquids drain perfectly through the turf-backing and into a special base leading into the ground. And to help break down pet odors and organic matter created by your dogs, a simple topical solution which fights bacteria can be sprayed over the synthetic grass.
Lawn Rescue For Dogs by Pet Naturals
One major issue that many dog owners have is discoloration of the grass when their dog urinates.  It is a common problem and one that can be easily solved with Lawn Rescue For Dogs, by Pet Naturals.
Lawn Rescue For Dogs is a tasty chewable supplement that is designed to balance out the pH of your pet's urine. The result will be urine that will not create those unsightly discoloration patches on your lawn. The ingredients contain yucca, cranberry, brewer's yeast, and DL-methionine.