Dogs & Cats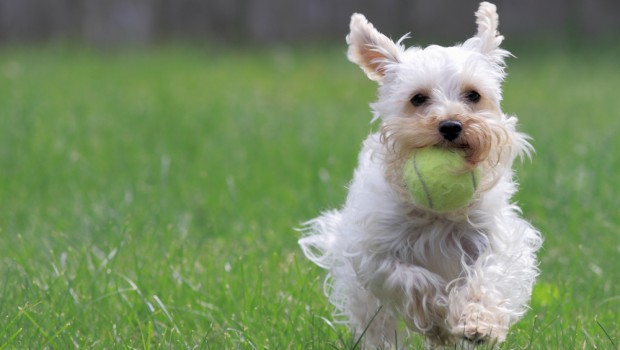 Lawn Protection From Dogs
Is it possible to allow your dogs to roam free in the yard, yet maintain the integrity of your lawn? You may not think so, but with the right planning and products that are designed for outdoor solutions, you will have the comfort of knowing that your dogs are outside enjoying themselves and your grass will remain intact with its fullness and color.
To keep your lawn free from damage and soil, the following products may interest you:
Dog Spot Eliminator by The Organic Farm Store
One of the most annoying aspects of a damaged lawn is the discoloration that results from urine stains left when your dog pees. Dog Spot Eliminator is a product made by The Organic Farm Store that can prevent such occurrences. It works by combating those dead areas on your lawn created by your dog's urine.
The product contains micro-nutrients that work to facilitate the natural recovery of the ground.  You can apply Dog Spot Eliminator on a patch-by-patch basis, or better yet, over the entire lawn. By applying this over the whole yard, future discoloration and dead spots from dog pee will be prevented. Dog Spot Eliminator is said to be 100% safe for all pets when used as recommended.
Triple Pet WasteEaze by Benedent
Another amazing product to hit the shelves is called Triple Pet WasteEaze, made by Benedent. It is a liquid supplement that quickly neutralizes and reduces the odor of your dog's waste product, which in turn protects your grass from those nasty looking brown spots.
Triple Pet WasteEaze is made up of a mixture of yucca plant extracts and anthium dioxide. According to the manufacturer, this combination helps destroy compounds that cause odor, facilitates nutrient absorption, and decreases the pH levels of your dog's urine. All you do is add a cap full of the liquid supplement to your dog's water bowl as often as instructed by the label. You can purchase Triple Pet WasteEaze in 8 oz, 16 oz, or 32 oz bottles.
The Pet Patio Potty by Doggy Solutions
An alternative way of protecting your lawn without the use of supplements or grass repair kits is to invest in the Pet Patio Potty, made by Doggy Solutions. This portable dog litter box is designed to blend in with the look of your lawn or patio. It comes in both indoor and outdoor units.
The outdoor units are designed with high-density polyethylene and are water-resistant. The box frame has removable trays positioned over the litter so that you can remove your dog's urine or feces without any mess or hassle. The Pet Patio comes in 4 standard sizes and 3 different model types, perfect to accommodate large and small dogs alike.